Scientific Plant Service is proud to have recently sponsored and volunteered at a First Green Field Trip event at Westminster National Golf Club. The event took place Tuesday, April 12th, and was attended by students from a local elementary school. First Green is a STEM (Science, Technology, Engineering, Mathematics) program of the GCSAA Foundation, the philanthropic organization of the Golf Course Superintendents Association of America.
What Is First Green?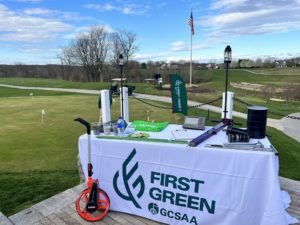 First Green is an environmental and STEM education outreach program for K-12 students that uses golf courses as learning labs. Through this program, golf course superintendents and other industry professionals host students on field trips and teach them about the daily aspects of taking care of a golf course that involve STEM concepts.
During the Field Trip on April 12th, local Carroll County elementary school students were introduced to scientific practices like testing for water quality, collecting soil samples, identifying plants, and more. Golf courses are excellent locations for this education, as these large areas of land contain healthy turf, plants, and trees. 
The Field Trip Activities 
First Green Field Trips focus on STEM principles where students can get a firsthand learning opportunity in a real-life setting. Students take part in different stations where they may test water quality, collect soil samples, identify plants, learn about wildlife, water conservation, and more! Golf course design concepts were also introduced, and the kids got to design their own golf holes and share their ideas with their classmates.
Students learn about the math that goes into creating a golf course, such as calculating area measurements. Students also learn how to calculate the square footage of irregular spaces, like the putting green or a sand bunker. Then, students learn how to measure and calculate streamflow. They also used volume to apply the right amount of sand topdressing and to determine the amount of water in a pond or lake.
Scientific Plant Service was proud to participate in an event that promotes STEM education, especially when used to encourage intelligent environmental designs. 
Scientific Plant Service Is Your Go-To Source In Landscape Healthcare
Scientific Plant Service, located in Baltimore, is a privately owned corporation, chartered in Maryland in 1957 by Frank J. Burke.  We started as a full-service Arborists specializing in the care of shade trees and ornamental shrubs, but today we are a Lawn Care company that is a huge part of the community.  From aquatic environments and snow management to deer and mole control, SPS has services tailored specifically for your lawn and landscape.
We offer services in Maryland, Washington, DC, and Virginia, including Harford, Baltimore, Carroll, Frederick, Howard, Anne Arundel, Montgomery, Prince Georges, Talbot, Queen Anne's, Calvert counties in MD, as well as Loudoun County, Fairfax County, Arlington, Alexandria, and Falls Church in VA. For more information, contact us online, or call us at 410-321-0970. Be sure to follow us on Facebook, Twitter, LinkedIn, and Pinterest.